About
Discover over 37,000 square-feet of flexible multi-use spaces that can adapt perfectly to your meeting goals and accommodate the most demanding presentation and communication requirements.  The Donald W. Reynolds Community Center  is Southeastern Oklahoma's newest premiere special event center!
The Donald W. Reynolds Community Center officially opened November 16, 2011.  It is the largest convention/ meeting space venue in LeFlore County.
Among our features:
A 12,000 square foot  pillar-less sub-dividable multi-purpose function space optimal for receptions, concerts, award ceremonies, corporate events,  tradeshows, weddings, graduations, proms and theme parties.
 Black Box Theater
Stage Craft Area
Outdoor Amphitheater
Two loading docks – Auto, RV, Boat accessible
Unlimited concrete floor load capacity
High-speed wireless Internet
Deluxe Executive Conference Room equipped with bar serving area and outside terrace
3 Individual meeting/function rooms with state-of-the-art audio visual equipment
Star and Chorus Dressing Rooms
Catering/Prep Kitchen
3 Individual Concession Stands
Ticket/Box Office
Art Gallery and Reception Area
Ample Public Parking
As one of the most architecturally pleasing, technologically advanced and functionally superb venues in Southeastern Oklahoma, our experienced staff is committed to providing you with a First Class experience.
We'll make your convention, meeting or special event easy to plan while helping to deliver memorable experiences and lasting impressions.
We look forward to being a part of your next great event!
The Donald W. Reynolds Foundation is a national philanthropic organization founded in 1954 by the late media entrepreneur for whom it is named.  Headquartered in Las Vegas, Nevada, it is one of the largest private foundations in the United States.
Contact
Contact Info
105 Reynolds Ave, Poteau, OK 74953
Phone: (918) 647-4204
Upcoming Events
Upcoming Events:
December 15 & 16 – Hometown Christmas at The Reynolds Center
More information coming soon!!!
For more information on local events please visit www.poteauchamber.com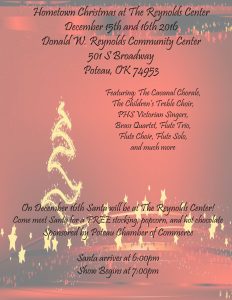 Rates
The Donald W. Reynolds Community Center has four separate conference rooms. Each conference room is pre-set with seminar tables and chairs.
Executive Conference Room
 First 2 hours
$125.00
 Each additional 2 hours
 $100.00
Cavanal Meeting Room  24′x32′
First 2 hours / each room
$100.00
Each additional 2 hrs.
$75.00
Sugarloaf Meeting Room 24'x32'        
 First 2 hours / each room
 $100.00
Each additional 2 hrs.
$75.00
Lecture: 72 chairs.  Class Room: 36 chairs.
The state-of-the-art Reynolds Center has a main Exhibit Hall that is ideal for corporate events, fundraisers, banquets, receptions, regional and national conventions, proms, consumer trade shows, lectures and entertainment concerts. The main floor space is 12,000 sq ft and can accommodate up to 1,100 people. Equipped with 2 loading docks the main floor can accommodate boats, trailers, R/V's and professional concert load-ins. The Reynolds Hall can be subdivided into 3 different smaller Salon Areas with movable partition walls. 
Seating capacities are approximate
Reynolds Hall
100′x125′
$750.00
Speaker Venue:
1323 guests
Concert Venue:
1100 guests
Banquet:
512 guests w/64 (72″) R Tables
Salon C
100′x68′ 
$500.00
Speaker Venue:
628 Guests
Banquet
312 guests  w/39 (72″) R Tables
Salon A&B
52′x57′ ea Salon
$300.00
Speaker Venue:
261 guests
Banquet:
120 guests w/15 (72″) R Tables
Black Box Theater   
47′x59′
$350.00
Theater Style:
180 guests
Art Gallery 
By Special Arrangement
$250.00
Reynolds Community Center
Full Facility/Full Day
$1,500.00
Amphitheater
Outdoor Amphitheater
 $500.00
All Salon Area and Exhibit Hall rentals include tables, chairs up to 400 and basic A/V package.
Exhibit Hall, Salons and Black Box Theater pricing are for an 8 hr. rental period
20% discount on second day bookings.
Set-Up & Tear Down to be completed in same day rental time.
Extra day/early set-up/late tear down: 50% of daily room rental rate and a 4 hour time block.
Exhibit Hall, Salon Areas and Black Box Theater are rented for an 8 hr time block between 9am and 10pm. After 10pm a per hour / after hour rate will apply. Please notify Director if an event is scheduled after regular hours.
15% discount only for church, school, local civic organizations and non-profit organizations with a 501-(c)#.
Room Set-up Includes: 1 Head Table, Chairs & Tables for number of attendees (up to 400 chairs included in basic room set-up).
Basic A/V includes Podium & Microphone.
Reservations for use of the Reynolds Center must be made through the Center Director. Reservation deposits serve as a hold for the contracted date and will be deducted from the final invoice. No reservation is considered guaranteed until the Center Director receives the required deposits and a contract has been signed by both parties. A tentative hold will be accepted and held for no more than 5 calendar days. Rental space is on a first come first serve basis.
| | |
| --- | --- |
| Reynolds Community Center – Full Facility | $500.00 |
| Reynolds Hall | $300.00 |
| Salon A, B & C, Art Gallery and Black Box Theater | $200.00 |
| Meeting Room A,B and Executive Board Room | $100.00 |
Required for all rentals. Separate Check. Fully refundable without facility damage or outstanding balance. Deposits are to be returned 2 business days after event. Unauthorized alcohol or use of the building will result in automatic forfeiture of all deposits.  Also refer to section ' Clean Up, Maintenance and Damage' on Page 7.
| | |
| --- | --- |
| Reynolds Hall: |   |
| Non-Alcohol Related Events | $250.00 |
| Alcohol Related Events | $350.00 |
|   |   |
| Salon A, B & C, Art Gallery and Black Box Theater: |   |
| Non-Alcohol Related Events | $150.00 |
| Alcohol-Related Events | $200.00 |
Self-Catering/Outside Food Vendor Fee: (The Reynolds Center does not supply catering) *All Food Vendors supplying food & beverage must have a Fed Tax ID # and Health Dept. Approval.
| | |
| --- | --- |
| Reynolds Hall and Salon C | $300.00 |
| Salon A & B | $200.00 each |
| Meeting Room A,B and Executive Conference Room | $100.00 |
Alcohol Beverage Serving Fee
Please see management for fee rates and DWRCC alcohol service guidelines.
NO EVENTS FOR PERSONS UNDER 21 YEARS OF AGE MAY HAVE ALCOHOL.
Available and Supplied by Reynolds Center
Morning Break
Coffee/Ice Water
$25.00 set-up + $1.00 p/p
w/Donuts/Pastries
$25.00 set-up + $3.00 p/p
w/Pastries/Assorted Fruit
$25.00 set-up + $3.00 p/p
Afternoon Break
Coffee/Soda/Water
$25.00 set-up + $1.00 p/p
w/Cookies
$25.00 set-up + $2.00 p/p
w/Cookies/Assorted Fruit
$25.00 set-up + $3.50 p/p
**Absolutely NO outside food and beverage is allowed without pre approval of management.
Additional options & amenities may be added after contract signing depending on availability. All amenities and room rentals are on a first come first serve basis.
Prep Kitchen
$100.00
 Please leave prep kitchen in the same condition as on arrival or an additional fee may be assessed.
Sculpt Ware Table Cloths (Black Only)
$8.00 ea
72″ round or 8′ rectangle
 
 Table Cloths (Black Only)
 $5.00 ea
Cafe bar height tables
$10.00 each
Center Police Security (Required for events serving alcohol)
$25.00 Per Hr/Per Officer
*Contact management for a complete list of audio/visual equipment and accessories available.
| | |
| --- | --- |
| Portable Stage (4×8 platforms) | $20.00 each platform |
| Pipe and Drape | $15.00 per panel |
| Additional Microphones | $15.00 each |
| Microphone Stands | $10.00 each |
| Drum riser | $20.00 |
| Portable Sound System | $250.00 |
| Portable Projector | $25.00 |
| Portable Screen | $25.00 |
Available décor may periodically vary in quantity and stock
| | |
| --- | --- |
| Crystal Columns | $25 (2 columns) |
| Clear Glass Vases | $5 each  Includes optional filler (beads, branches, etc.) |
| Ceiling Drape | $250 Includes suspended balloons and white drape |
Glitter and confetti are not allowed in the facility**
No decorations or signage may be taped, stapled, nailed, pinned, tacked or otherwise adhered to any wall, door or other surface in the Reynolds Center.
*Only directional signage is allowed and must be approved by the Reynolds Center Director. Decorating ideas should be discussed with the Director or the caterer prior to the event. All decorations and materials must be removed immediately following the event or a storage fee may be assessed.
Battery operated candles only. Open flames or any pyrotechnics in any area of the building are strictly prohibited.
Policies
Catering and event planning providers are available in our office.  We also have pictures of prior events for examples of décor and room setup.
It is your responsibility to inform your contracted vendors and guests of our policies and procedures.
*Rental rates and facility guidelines are subject to change